Buttocks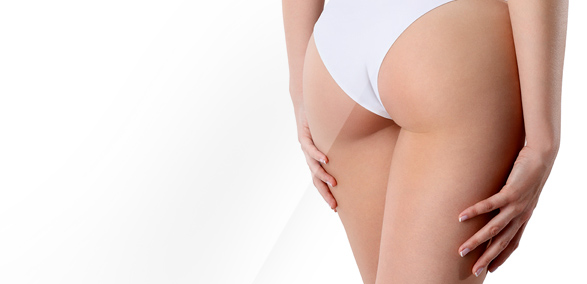 The buttocks represent, for women and men alike, a key element of seduction.
The buttocks are made up of fatty tissues, nerves and muscles, covered by skin. The shape of the buttocks is determined by the elasticity of the skin and by the ratio between the fatty tissues, the skin tissues and the muscles.
Certain people believe that their buttocks are too small or that they droop. They would like to have rounder, better-developed and curvier buttocks.
An augmentation of the buttocks can meet this request, sometimes in combination with a liposculpture procedure on the top of thighs or the hips..
Furthermore, the buttocks can droop because of gravity and because the skin has lost some of its elasticity. The shape of the buttocks can be influenced by pregnancy or weight loss. There can also be too much skin between the buttock and the thigh. If the volume of the buttocks is sufficient, but there is too much skin, cosmetic buttock surgery is recommended.
Beclinic offers the following interventions:
- Cosmetic buttock surgery
- Buttock augmentation, which can be achieved in two ways:
The Brazilian Butt Lift
During a "Brazilian Butt Lift", the surgeon removes the patient's fatty cells, from the hips, the saddlebags or the bottom of the buttocks, for example, and reinjects them, after purifying them, into the upper part of the buttocks. The combination of these two interventions makes it possible, because the areas close to the buttocks have been refined, to accentuate the final result and the buttocks thus appear well-developed and curved, quite naturally.
Augmentation by the Introduction of Prostheses
This method is usually selected for very thin people, from whom it is difficult to harvest the clean fatty cells that are needed for the Brazilian butt lift. The shape and the size of the prosthesis are selected after consultation between the patient and the surgeon. The prostheses proposed at Beclinic are made of solid (or cohesive) silicone gel of the SEBBIN brand. There is no risk of leakage, even if the implant envelope breaks.
There are other fillers on the market but they are not used at Beclinic.
The result is a very natural appearance and one that is supple to the touch. The implant is introduced through an incision in the fold of the bottom, which makes the scar minimal and almost invisible. Then the implant is positioned in the muscle. After the intervention, the incision is closed with individual stitches, which may be removed after 10-14 days.